Race Date: 28/04/2019
Location: London
This is one of those races that is on everyone's bucket list if you're a runner. I was very lucky, that I had the opportunity to race this, and was able to get in via a charity place. I knew a charity, that was created by one of my cousins, and asked to enter the charity ballot for London, and fortunately enough they got in, and then they ask me to represent them. I am forever grateful, that they gave me this opportunity.
Prior to entering the race in November, I had sights on a good time of around 03:45, but with a couple of consistent injuries plaguing my training between January and April, I had to settle for a target that was low and to go down to enjoy the day in London. My training was on and off over the 3 months, and I only managed to eclipse 30 miles a week once over this time. Every time I set out, my knee would cause a problem at least once. Therefore, my revised target was anything between 4 and 4.5 hours.
Zaheer managed to get a place through his club ballot, and we trained a lot together over the past few months. As one of my close running friends, we decided to travel together, and fortunately enough we managed to book into the same hotel too. We arrived in London via train on Friday afternoon, so that we can beat the rush on Saturday at the running show. We were able to collect the number in the evening, and then quickly go around.
In the morning, we ticked off a parkrun at Victoria Dock and decided to take it ultra easy, so that we don't overexert ourselves before the big day on Sunday. They had a record attendance of 349, eclipsing their previous one the previous year when they had 252. Their average is around 120 on a normal day.
We both decided to make another trip to the running show so that we can get the atmosphere, as well as going to all the stands that we can find. Overall, we learned a lot from all the different products that were on show and was great trying a few of them out. Some of these we took note of and would hope to use in the future. One key nutritional drink that we both got interested in was Tailwind, which we hope to try out in the future. If you are ever in London while the running show is on, I would recommend going in and looking around.
In the afternoon, we took a trip to Pall Mall and viewed all the setup that was happening at the finish line. We also noticed the famous blue line that everyone talks about. This is the line that is the shortest route of the Marathon if you wanted to do exactly 26.2. I don't think with the mass, we could achieve that feat at all, I expect the distance on our Strava to show a lot more than that.
On race day, I got up early so that I can leave early. Some of the Striders were meeting at 08:30 for a small photo near the starting pens. So quick breakfast with porridge and banana, I was ready to check-out. I managed to get to our meeting point on time, and a few of us managed a group photo.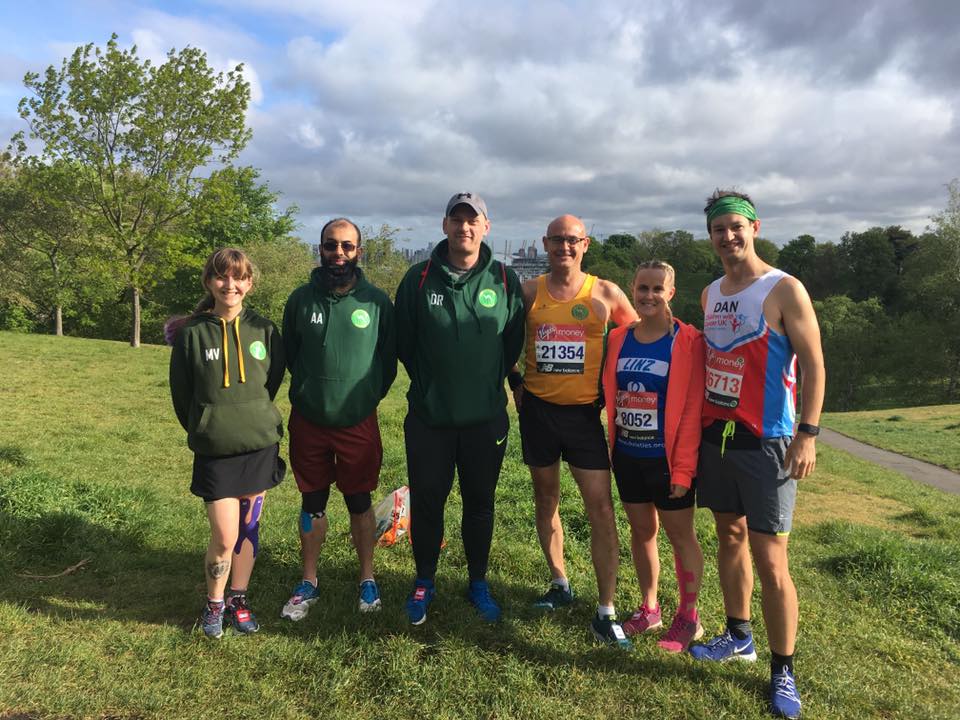 We all went our separate ways, depending on our starting colour, and zone. I was in zone 2, so one of the earlier starters. As you try to get into the zone, only people with running numbers were allowed in, and the numbers are checked by marshalls at the entrance. My start zone opened at 09:40, so still had about an hour to spare, so took a trip to the loo, and just walked around, and tried to see if I could see anyone I knew, but didn't find anyone. Dropped my bag at around 09:20, and slowly made my way to zone 2 starting point, and got into the crowd. As the first wave started, I quickly jumped over the barriers for another loo visit, so that I didn't have to go through the race, fortunately by now, all the people were in the pens, and there were no queues for loos, I was able to go in out very quickly, and still make the start line for our time.
As the first zone all went through the start line, zone 2 people started to walk to the start line and started about 5 minutes later at around 10:23, which was 13 minutes later than advertised. The atmosphere straight from the beginning was amazing, not sure if it was that, but my start of the race went really well too. My initial thought was to start at 9 min/mile, but the pace at 8:30 min/mile felt quite comfortable. I knew at the time, that as long as I can keep a comfortable pace, then I should be OK. Over miles 1-3, it felt very comfortable with my pace, and I knew in how I was feeling I could go faster, but I had to tell my self "no, don't do that, otherwise you'll regret it". It was very nice to see my supporters at Woolwich roundabout from the charity that I was supporting, this really spurred me on to keep going. Moving towards all the mile markers, I didn't feel any exhaustion or feel the need to slow down, so kept going around the same pace. Mile 8, felt a stitch but was able to quickly resolve that by having a few deep breaths, and by slowing down a bit.
Mile 13 felt the most comfortable, so much so, I made a few calls including my wife and one of the charity folk, to see where they were meeting me next. I was still going at an average of 08:30 min/mile, with a good ETA of 03:46. There was my thinking, "where's my niggle gone, and why am I not feeling it". But, I wasn't going to get ahead of myself, as I know from stories from various people, that things can still go wrong.
Mile 19 was the first place I felt a slight twinge of a cramp. I remembered from Elsecar, that I needed to slow down, and how that helped me overall, as well as taking extra gels; So I decided to do the same here. I was able to maintain a reasonable pace for about 2 miles, but, it all went wrong with severe cramp in my calves and hamstrings. This meant that I had to stop and do a few stretches, but this also started to give significant pain in my knee. However, I knew from the past few months, if I started going again, the pain will die down, and should be comfortable again. Now every time I started to run, I was wary of my cramp, and it kept hitting me. So the rest of the race was all about damage limitation, and just save my legs by walking and jogging where I could. Looking at my watch, I could see the ETA creeping up; but I knew whatever time I got was still going to be a good time considering all the issues I've had over the past 3 months. So, I decided to just take in the atmosphere, and finished with a big smile and achieving my target of 4-4.5 for my time.
Was I chuffed? certainly. Did I enjoy it? most definitely, it was one my most enjoyable races I have done over the past 2.5 years of running. I would pay to get in this race, even if I had to beg people for charity fundraising. The atmosphere was just incredible, you cannot beat the crowds of London. It's an experience that I will not forget for a while.
So moving onto my stats, the one thing I like about London Marathon is, that they give much more detailed statistics on various points of the race; and we can see from the table below, where it all went wrong for me

| Split | Time | Diff | min/km | km/h |
| --- | --- | --- | --- | --- |
| 5K | 00:26:57 | 26:57 | 05:24 | 11.13 |
| 10K | 00:53:31 | 26:34 | 05:19 | 11.30 |
| 15K | 01:20:40 | 27:10 | 05:26 | 11.05 |
| 20K | 01:47:29 | 26:50 | 05:22 | 11.19 |
| Half | 01:53:18 | 05:49 | 05:19 | 11.32 |
| 25K | 02:14:27 | 21:09 | 05:25 | 11.08 |
| 30K | 02:42:44 | 28:18 | 05:40 | 10.60 |
| 35K | 03:21:49 | 39:05 | 07:49 | 7.68 |
| 40K | 03:57:42 | 35:54 | 07:11 | 8.36 |
| Finish | 04:16:34 | 18:52 | 08:36 | 6.98 |
Big thanks to the team at KRDF charity, without them I wouldn't have been on the start line. They supported me from getting the charity ballot, to helping me with the fundraising, and then the support on the day. We can all support the work that they are doing by donating to the fundraising page at https://uk.virginmoneygiving.com/vlm-krdf-2019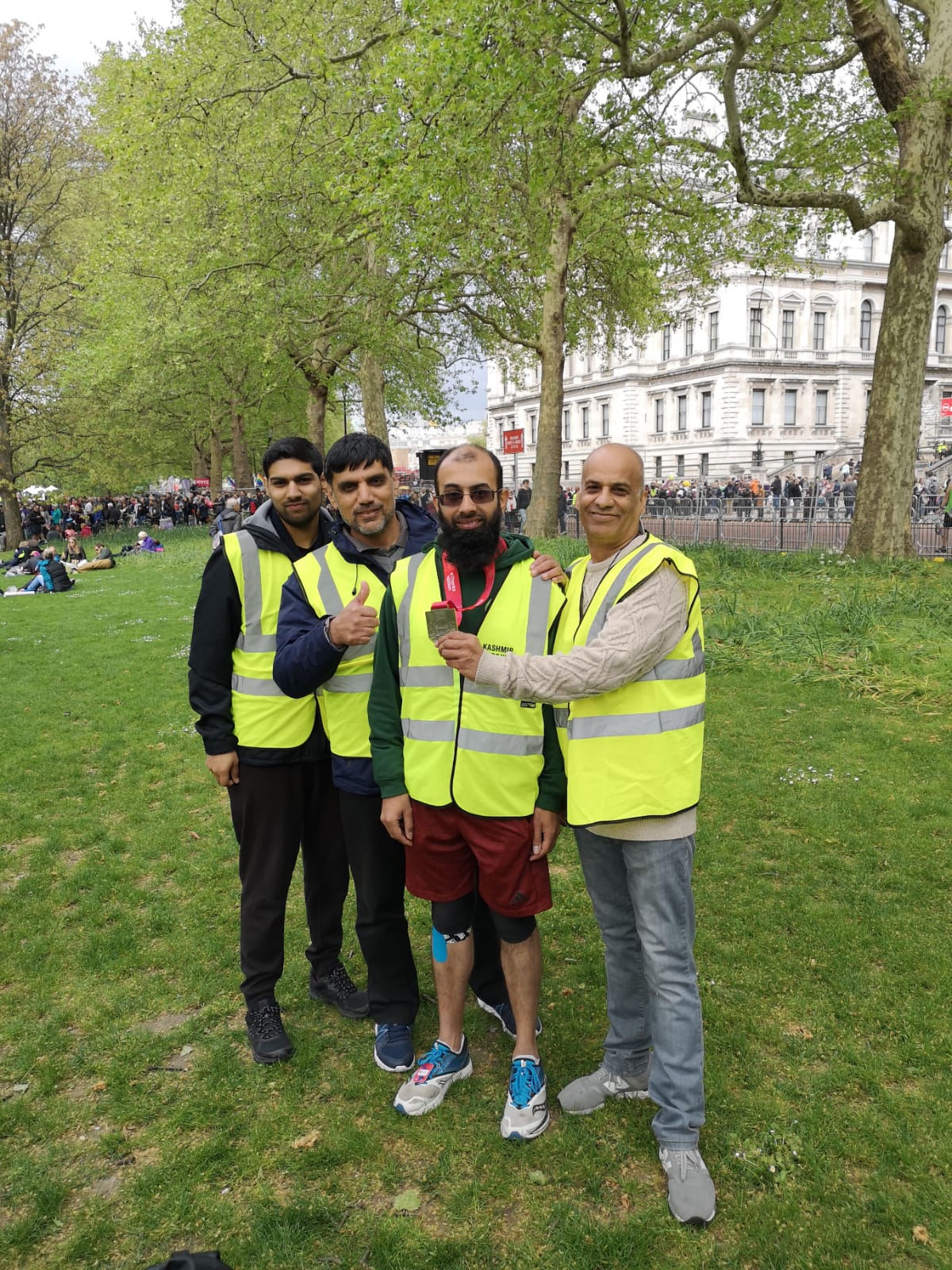 Strava Activity:
https://www.strava.com/activities/2326032611
Garmin Activity:
https://connect.garmin.com/modern/activity/3599066679
Official Result:
https://results.virginmoneylondonmarathon.com/2019/?content=detail&fpid=search&pid=search&idp=9999990F5ECC9700002CA5F3&lang=EN_CAP&event=MAS&search%5Bname%5D=Ali&search%5Bfirstname%5D=Arif&search_event=MAS