It's been almost a year since I officially joined the Steel City Striders (SCS) training run. If you have been keeping up with my blog over the year, you would have witnessed some of the ups and the downs of my running in the past year. In this post, I wanted to reflect on the things I have learnt this year, and if anything I would do differently. Finally will look at what my targets for the upcoming year
My first ever run with the Striders was on a cold and windy night on 27th December, I remember jogging down, and thinking "I hope I survive". Met everyone for the first time, and everyone made me feel really welcome. As it was during Christmas break, there were only a few of us, and the run leader at the time suggested a steady all-in-one group to town and back. (hmm, I hope their steady is going to be OK for me). The overall pace, seemed OK for the first half, and then started to struggle, it really felt like I was struggling to keep up throughout the whole run. I was relieved and chuffed that I was able to complete a training run like that. Now, when I look back, it was challenging, but it was also a great workout, I wasn't pushed to that kind of limit previously in a training run. The one thing I have come to realise over the year is that try to push onto the next group, as that will help for long-term performance; you may struggle for a few weeks, and will be at the back of the group, but will overall help improve us. So if you think you are comfortable in a running group, then don't hesitate in moving up.
I had unfinished business from the Half Marathon at Sheffield, and straight away booked Manchester Half Marathon, knowing too well that it would be a PB course, and there's a lot of potential to do well. There was a lot of training to be done over the course of the 6 months, so would hope to get a better result. In essence, I think my training leading up to it was not the best in the variety I had done, i.e. enough of the long runs.
One of the biggest highlights was the running during Ramadhan. All Muslims during the holy month of Ramadhan abstain from food and drink between dawn and sunset, you can read on my journey here, particularly on what I did differently this year to keep up with my running. I was particularly happy that I was able to get the most mileage in a calendar month during this month, which I thought previous to this was impossible. I would hope to be able to accomplish very similar in the coming year. One of the other achievements around this time was that I managed to have 3 great weekends following the month of Ramadhan, where I managed to acheive fantastic results in 3 races, RSR, Dronfield 10K and Leeds 10K; so much so, I PB'd at Dronfield, and then Leeds straight after. This highlighted that some good, steady and consistent training can lead to great performances. However, with my trip while running RSR, there's still some unfinished business, and want to see if I can improve on the result, and try again in 2019
Over the year, I continued to train with the Striders at Hillsborough, and assist with the Heeley Striders where I could. The amazing thing to see is the improvements that people do over the course of the year, from when they start training, to what they have been able to achieve throughout the year. I'm glad, that I can say that I have been part of at least one person's journey from couch to some running.
By mid-August, I had decided that whether I am successful in the London Marathon ballot or not, I was definitely doing a Marathon in April 2019, so I booked myself to do Manchester. It was also recommended to me was to potentially go through 2 marathon training plans, so that I would be well equipped to do the one in April. So then began my journey for a Marathon
On a side note, one thing I did organise during 2018, was my companies corporate challenge at the Sheffield 10K. It was great to see the enthusiasm that was generated with a bit of banter to go with it too. All in all, we managed to get 10 people to run the Sheffield 10K in September. I am glad to say that at least a few of them have kept it going too, which is great to see and would love them to keep it going. We will be doing it again, and the interest is great for 2019, and have 15 people already lined up to take part in this event
2 half marathons in autumn, one each in September (Vale of York) and October (Manchester), really lifted my performances to another level. Firstly, the support I got at Vale of York from one of the striders and platformed me to a great PB compared to Sheffield Half, which I could have never imagined. Then to eclipse that at Manchester was another level, especially the fact I didn't have a watch to pace myself, ending with a resul of 01:39:45.
It was quick to suggest, that my training for the Marathon was going well, and I would be ready to test myself by the end of the year, so registered for the Elsecar Trail Marathon, considering that I was already doing a race at the same time as the Yorkshire Marathon. By late October, I was undoubtedly got my first commiseration magazine from the London Marathon ballot, but managed to get into London Marathon through a charity that is very close to my heart, and you can read all about it on my fundraising page here, and therefore would really appreciate any sponsorship.
December was another good month for me, Percy Pud, the annual 10K race that my running club organises usually happens on the first Sunday of the month, and also I had my first Marathon. Percy Pud was very fruitful for me again, as it was last year, and the support and encouragement got me a PB of 45:40. The biggest achievement was still to come this year, and that was the Marathon. Considering the fact I had a minor issue in my right knee, I had no idea how I would do in this race. You can as always read it here, but the main thing was I came away unscathed, and managed to complete with a time of 04:14:25, which for a first Marathon is a great time, and gives me a platform to try and eclipse in the upcoming coming year
One key factor that really put me on the radar was the Striders parkrun cup. This is a format that can potentially allow newbies to perform, and are given an opportunity to perform and win the competition. It works in a way where the playing field is levelled out with the faster runners having a handicap. I was fortunate enough to get to the Semi-Finals, and looking back, improved from 30:12 to 24:11, giving me a fantastic 6 mins improvement in my performances over the 5 months. I don't think my overall performances would have improved as significantly as it has, if it wasn't for the parkrun cup
Coming back to the beginning, at the start of the year, I had set myself some targets for the year, namely
Run 1000 miles over the year
Achieve sub 50 min 10K
Achieve sub 25 min 5K
Run my first Half-Marathon, and try and achieve sub 2-hrs
Stay injury free, and be consistent over the year
2018 Performances
| | | |
| --- | --- | --- |
| Race Distance | Slowest Performance | Best Performance |
| 5K/parkrun | 27:59 | 22:45 |
| 5M | 46:18 | 41:53 |
| 10K | 52:44 | 45:50 |
| Half-Marathon | 02:12:50 | 01:39:45 |
| Marathon | 04:14:25 | 04:14:25 |
Looking back at the performances in 2018, I think I can safely say, that my year has gone very well. I would have to do something significant over the years to eclipse this one. As this is was the start of my running journey, the most improvement would have been here too. This can also be seen in the graph below. This shows that my handicap improved from 30.9 to 11.4 (Lower means better). It shows that over the year, it's been plateauing off, and I would expect that. Maybe in 2019 there are other thidngs I can do to help improve my performances and reach my targets for 2019. Ultimately for 2019, I'd like my ranking to get to single figures.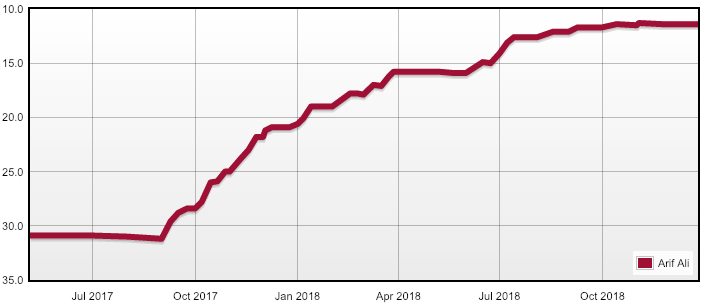 Looking at the targets that I did set for myself, I comprehensively achieved thenm, and more. I put all this down to the consistency in my running and not being injured for the duration of 2018.
2019 Targets

| | |
| --- | --- |
| Race Distance | Time |
| 5K/parkrun | 21:30 |
| 5M | 36:30 |
| 10K | 44:00 |
| Half-Marathon | 01:38:00 |
| Marathon | 03:45:00 |
Above is a table of what I think I should target for the year, hopefully, these are reasonable targets, especially with 2 Marathons already signed up. The biggest challenge is the Marathon one, as I am not sure what the best estimate is, however based on my best performance for the half-marathon, the vdotO2 calculator suggests that I should be able to achieve 03:27:23; so based on this, I am being pessimistic with my target above. Other than that, there are small margins to gain next year, but will see how I get on
Thanks again…
I know, I keep repeating this, but I wouldn't have achieved what have this past year without these people helping and guiding me
Striders FaceBook, Mick Wall, bringing me down to earth on my expectations early last year
Couch 2 5K, James Norton and Zoe Dickinson, helping with my form, posture, gait and great advice
Striders Social Daft-o-Clock Club, particularly Matt Surgeon, Richard Clamp and Neil Schofield, they have helped me tremendously to improve my distance, over the past year
Kim Baxter Physio, helping me to stay injury free since March 2018
Finally, the fantastic advice, support and encouragement from the various run leaders at Hillsborough, particularly Laura Fletcher, Stuart Jones, Liam Russell, and Andrew Woffindin
Thanks for reading, and onwards and upwards towards 2019